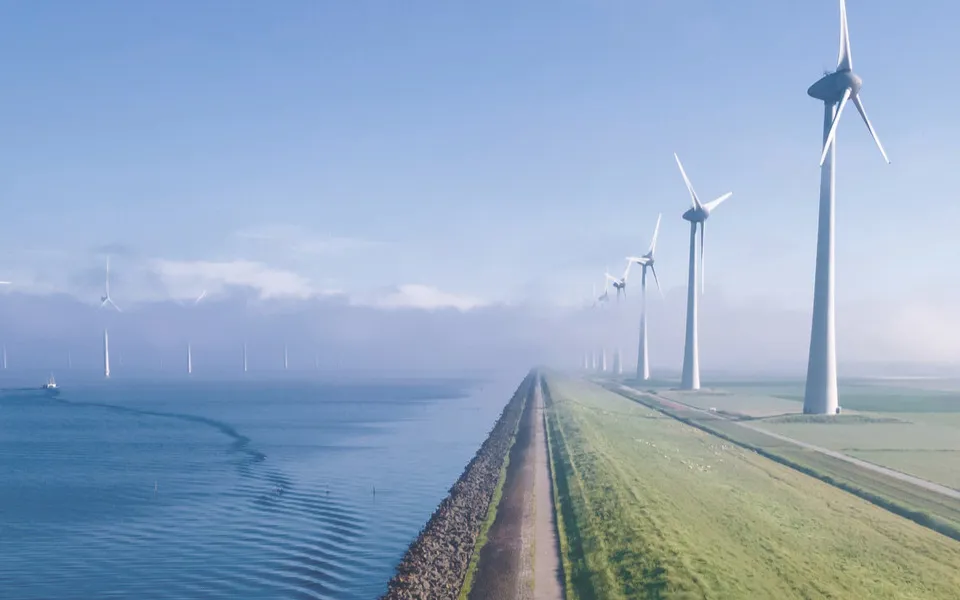 What does the future hold for CO₂ capture, utilisation, and storage? 
8 things we learnt from a recent conference
Ricardo attended the recent CO2 Capture, Storage & Reuse conference in Copenhagen on 17-18 May 2022. The conference included a wide range of experts representing CO2 capture and utilisation technology developers, CCUS project developers, power companies, district heating providers, CO2 storage and transportation companies and government officials and regulators.
Our heat decarbonisation expert Naser Odeh contributed to discussions on the current status and the future of CCUS in the EU, drawing on Ricardo's experience supporting programmes on industrial heat decarbonisation and net zero, as well as supporting clients in the public and private sectors.
The overall messages from the conference are positive and, in this update, we share with you our key learnings and insight from the event:
1 Negative emission technologies (NETs) or carbon dioxide removal (CDR) technologies such as bioenergy CCS (BECCS) will play a key role in achieving targets in Europe and worldwide.
The current level of CO2 removal is only 0.02 Gt CO2 in 2021 (mainly from Land Use, Land Use Change and Forestry, LULUCF, and none from engineered solutions). This needs to be scaled up by 50 times in the next decade to help achieve targets. One possible mechanism to encourage the deployment of engineered NETs is under the EU ETS.
2. Financial support for carbon capture, utilisation and storage (CCUS) projects is now available through the European Innovation Fund (EIF).
The EIF was created to provide funding for CCUS, renewables, energy storage and low carbon technologies, and is one of the world's largest funding programmes for the demonstration of innovative low-carbon technologies. Several CCUS projects have been supported under Phase 1 including in the bioenergy / biorefinery, cement, iron & steel, hydrogen and chemical sectors.
3. Several exciting CCUS projects are being developed in Europe which we can learn from.
These projects combine BECCS, including CCS on Energy from Waste (EfW) plants, with district heating such as the Stockholm Exergi project in Sweden, the C4 Carbon Capture Cluster in Copenhagen and the Longship project in Norway.
4. CCUS is an especially attractive option for the decarbonisation of EfW plants.
EfW plants are here to last and they operate 24/7 and so have a significant negative emissions potential when combined with CO2 capture. Estimates show CCUS on EfW is cost competitive (€66-110/t CO2 captured) in comparison to other BECCS options and are usually associated with district heating schemes where the waste heat can be recovered from CO2 capture and fed into heat networks.
5. CO2 capture technological options are widely available and worth exploring.
Presentations from technology developers including Sumitomo, Baker Hughes, Pentair, ARC, Babcock & Wilcox, Ammongas, Giammarco-Vetrocoke and others provided real case studies where technologies are being demonstrated.
6. CO2 utilisation technologies will play a key role in developing the CCUS industry.
These include sustainable aviation fuels and other transport fuels, aggregate manufacturing and other emerging technologies.
7. CCUS has a key role to play in decarbonising the transport sector.
Sustainable aviation fuels (SAF) are useful substitution for fossil fuels but are not currently used as they are expensive. The EU announced an SAF blending mandate of 2% in 2025 and 63% by 2030 while the US has already committed to 100% by 2050. Companies such as DHL pledged a target of 30% SAF by 2030 and Delta Airlines a target of 10% by 2030. Much more still needs to be done as it is estimated that we need to install one SAF plant a month to achieve 2050 targets.
8. Permanent storage of CO2 in saline aquifers in the North Sea has been successfully demonstrated for more than 25 years in Sleipner.
A key requirement for the widescale deployment of CCUS is the availability of sophisticated CO2 monitoring techniques. CO2 monitoring technologies are well-established and include micro-seismic and chemical methods as well as InSAR. The EU CCS Directive provides a framework for monitoring requirements as part of a robust underground CO₂ storage regime.
Ricardo's insight on CO2 capture, utilisation and storage
We believe that the following points need to be considered for CCUS projects:
It is important to evaluate biomass sustainability and life cycle impacts when considering NETs
Any assessment of the potential of NETs should consider the sustainability and the life cycle impacts of biomass and not only the capture and permanent storage of CO2.
For example, the potential of negative emissions from capturing the biogenic CO2 in biogas and biomethane plants should also consider methane leakage, although sites are currently very good at minimising methane leakage from processes. This provides a clear assessment of the role CO₂ removals will play in achieving net zero targets.
BECCS and district heating systems go well together
The combination of BECCS (including energy-from-waste and biogas & biomethane) plants with district heating systems provides the great benefit of CO2 removal as well as significant efficiency improvement.
Biomass boilers and cogeneration systems feeding into district heating are considered easy targets and should be added to the "low hanging fruits" list when it comes to deployment of CO2 capture.
The CHP heat used within the carbon capture plant onsite should be categorised as "useful heat"
A key point to address under the Energy Efficiency Directive (EED) is the categorising and definition of the heat from the cogeneration plant which is then used in the CO2 capture process as "useful heat".  This is defined by the EED as heat demand which is "economically-justifiable" as in Article 1 of the EED. In addition, provisions to encourage the recovery of heat from within the CO2 capture plant to feed into district heating or other industrial processes should be introduced.
We believe that different types of CO2 capture technology and solvents (i.e., amine or potassium carbonate) will have different potential for heat recovery and the suitability will need to be evaluated on a case-by-case basis.
CO2 reuse technologies should all be considered.
Many of these options, such as sustainable aviation fuels, SAF, and synthetic fuels will provide a benefit by substituting the use of fossil fuels but will not lead to negative emissions. Options for permanent storage of CO2 including concrete curing and aggregates should also play an important role as these will lead to achieving the negative emissions needed to balance any residual emissions in 2050.
Dr Naser Odeh, Ricardo's Head of CCUS and Biofuels, said: "The evidence is loud and clear that the CO2 capture, Utilisation and Storage industry is ready and developing at a very fast pace. There are many well-established CO2 capture and utilisation technologies to choose from and many are developing quickly with significant investment from developers. There are plans across the EU to develop CCUS projects and to make it a key part of the solution to achieving net zero targets. What is needed now is the funding and support to make these plans and projects a reality. There is optimism in the atmosphere that things are happening on the ground but further work is needed on developing the right policy and financial mechanisms, for example to accelerate deployment of negative emission technologies such as bioenergy CCS and CCS on energy from waste plants".
Get expert support from Ricardo
This is a constantly developing area with lots of exciting developments and a massive potential to to reducing carbon emissions. The forecasted price of carbon offsets is predicted to be very high in the future so early investment in these technologies can pay real dividends.
As a result, we are seeing an increasing number of organisations beginning to investigate and take action so if you're considering CCUS, negative emissions technologies and industrial decarbonisation, speak to our experts for impartial advice on your strategy, plans and implementation of these technologies. We have expertise in key areas including:
Biomass and feedstock sustainability
Biogas and Biomethane
Project funding