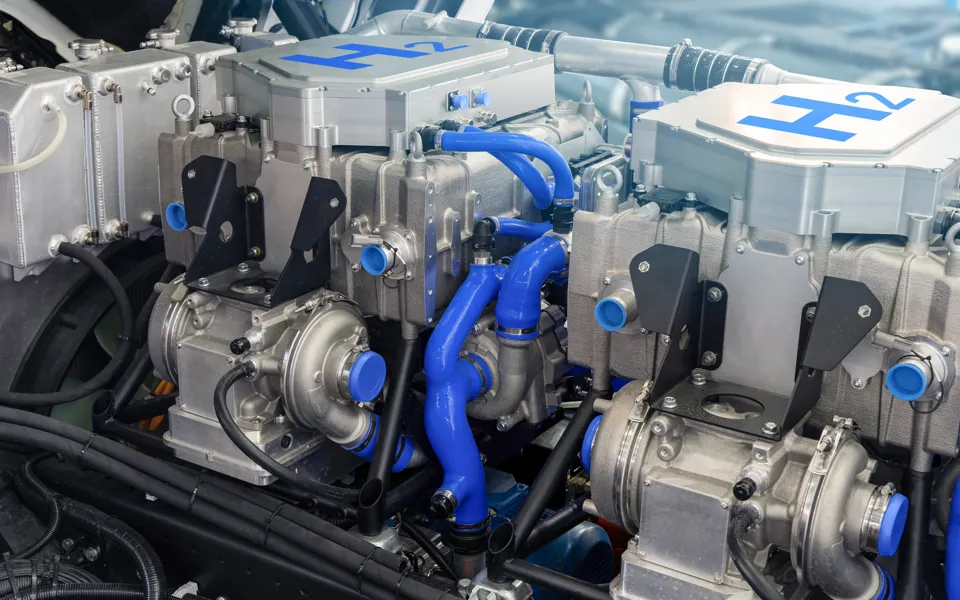 In this Q&A session with Dr. Richard Osborne, an expert in sustainable energy and transportation, the discussion revolves around heavy-duty hydrogen engines and the crucial role they play in decarbonisation.
He sheds light on the technology's potential to revolutionise the transportation sector and its implications for reducing greenhouse gas emissions, fostering a cleaner and more sustainable future. Through his insights, we gain valuable knowledge about the advancements and the challenges.
Q: Can you introduce yourself and tell us about your role at Ricardo? 
Dr Richard Osborne: Of course. I'm the Global Technical Expert for Sustainable Engines at Ricardo, and I've been with the company since 1999. In my role, I'm responsible for overseeing the sustainable fuels portfolio for both automotive and industrial applications. Over the past 24+ years, I've primarily focused on engine development and combustion research, working on various R&D studies and projects for Ricardo's clients worldwide. Additionally, I have the privilege of serving as the Chair of the Powertrain Systems and Fuels Group (PSFG) board for the Institution of Mechanical Engineers. 
I really enjoy the variety of Ricardo, and what we have to offer, from the variety of capabilities to the different types of projects across the world.  
Q: Can you elaborate on your experience with Ricardo and the projects you've been involved in? 
Dr Richard Osborne: During my time at Ricardo, I've had the opportunity to work on a diverse range of projects that span different sectors and regions. My main area of expertise lies in engine development and combustion system optimisation. This involves exploring innovative ways to improve engine efficiency and reduce emissions, with an increasing focus on sustainable fuels. 
Ricardo's reputation for excellence and its broad capabilities have allowed me to work on cutting-edge projects for customers across the globe. Whether it's automotive or industrial applications, the variety of projects has been one of the most enjoyable aspects of my career at Ricardo. 
Q: What's been your favourite project and why?  
Dr Richard Osborne: It's challenging to single out one project. However, if I was to name my favourite project, it would have to be the Ricardo research project called Magma xEV, where we developed an ultra-high efficiency engine concept for series-hybrid vehicles.  
We published our work with Geely at the Aachen Colloquium in 2019, and then went on to design a pre-chamber ignition system for the Magma xEV engine. We also tested the engine with a sustainable bio-gasoline fuel made from forestry and agricultural waste.  
The outcomes were an engine concept that is above 45% brake thermal efficiency, seeing the tangible results of our efforts and knowing that we are contributing to a more sustainable future has always been incredibly rewarding. 
Dr Richard Osborne: The energy transition has undoubtedly presented both opportunities and challenges for Ricardo. One of the significant challenges is the transformation of the automotive industry, which is currently undergoing unprecedented structural changes. The industry has struggled to remain profitable while developing a much larger range of powertrain types.  
However, Ricardo works on all of these powertrains so is well-placed to support. There are also new opportunities for Ricardo in sectors such as maritime and marine, heavy-duty trucks and off-highway machines. Propulsion systems in these sectors are difficult to electrify, so there is a huge demand for engines using sustainable fuels.  
The shift in focus has widened Ricardo's range of offerings across different sectors and we're embracing these new applications. 
Q: How do you think hydrogen could help different sectors reach net zero? 
Dr Richard Osborne: Great question. Hydrogen should be targeted first at the sectors and applications which are difficult to electrify, it should be carefully targeted at sectors that aren't well served by direct electrification. Off-highway construction equipment and long-haul heavy-duty trucks fit this requirement for very high power and energy demand with zero carbon at the tailpipe. 
Q: Why is hydrogen considered a sustainable fuel?   
Dr Richard Osborne: Hydrogen is considered a sustainable fuel primarily because of its production method using renewable energy. When hydrogen is produced through the process of electrolysis, where water is split into hydrogen and oxygen, using renewable electricity, it is known as green hydrogen. Unlike other methods that rely on fossil fuels or non-renewable energy sources, this method ensures that no carbon dioxide or other harmful emissions are released during production, making it fully sustainable. As we move towards a more sustainable future, green hydrogen is expected to become the mainstream process for hydrogen production. 
Q: Why are sustainable fuels including hydrogen such a bearer of hope for our economy and our future life regarding climate change?  
Dr Richard Osborne: The climate change/ climate emergency dictates that we deploy a wide range of solutions as quickly as possible. As a recent IPCC report stated, we need 'everything, everywhere, at all once'. A huge advantage of sustainable liquid fuels is that they can be applied to existing vehicle fleets, whether passenger cars or ocean-going ships, and use existing fuel distribution infrastructure. Hydrogen will become increasingly important as an energy carrier, in decarbonising 'hard-to-abate' sectors, and potentially for long-term energy storage.  
One of our team members, Maya Rubin wrote a fantastic article on how the powerful climate modelling provides a glimpse into a bleak future... but explores how could it also help us avoid a bleak future.
Q: What are your plans for the future? 
Dr Richard Osborne: My plans for the future involve a strong focus on sustainable fuels, especially hydrogen, across various sectors such as automotive and industrial, marine and maritime, rail, aviation, and more. There's a lot to explore and learn in this area, which will keep me engaged and busy moving forward, as we continuously strive to develop innovative solutions to address the sustainability needs of these sectors.  
Q: For those attending the Hydrogen Technology Expo in Bremen later this year, could you share what you'll be discussing there? 
Dr Richard Osborne: Of course. At the event, I will be talking about heavy-duty hydrogen combustion engines and showcasing the work we've done for heavy-duty vehicles. It's essential to demonstrate how these advancements can be applied to existing fleets and the marine industry, contributing to the broader adoption of hydrogen propulsion in these sectors. 
Q: And finally, who would benefit the most from your presentation at the event? 
Dr Richard Osborne: My presentation will be of great interest to professionals working in heavy-duty vehicle industries. It's an excellent opportunity to gain insights into our research and development work related to hydrogen combustion engines. Additionally, anyone curious about Ricardo and our approach to conducting research and development, including hydrogen combustion systems, would also find the presentation valuable.