Ricardo at Professional MotorSport World Expo 2023
Join Ricardo at Professional Motorsport World Expo on stand 17005 at the Köln Messe on 8th - 9th November where we will be showcasing technologies for the next generation of motorsport and high-performance vehicle platforms.
Book a meeting with us to discuss your requirements. Fill out the form below to schedule a discussion with one of our industry experts.
Our focus at PMW will be on sustainable, integrated solutions supporting the decarbonisation of motorsport. In addition to showcasing our world-class powertrain and drivetrain solutions for traditional propulsion systems, Ricardo will be featuring our solutions and services for the next generation of electrified and alternative fuelled motorsport platforms. This includes transmissions, motors, integrated EDU solutions, and our sustainable supply chain management and battery assembly capability.
We will also be highlighting the importance of supply chain sustainability and quality assurance for the motorsport industry. Neil Beswick, Sustainable Supply Chain Manager, will be presenting 'Engaging your business partners for sustainable growth and positive impact' at the event.
The motorsports industry is facing a unique challenge as it seeks to balance the requirement to reduce the environmental impact of the sport without compromising on performance, cost, or efficiency. Neil explains how engaging with the value chain for sustainable growth is enabling Ricardo's motorsport clients to focus on environmental impact in line with or ahead of published policy and regulation. He will share Ricardo's experience of building sustainability into its value chain, and how effective supplier engagement can help to reduce carbon emissions generated within the supply chain without compromising competitiveness.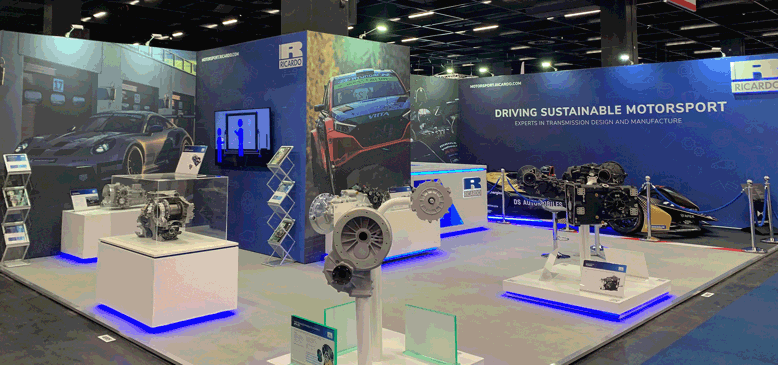 Meet with our experts at PMW Expo 23
Meet with one of our industry experts to discuss your requirements. Complete the form below and we will be in touch to schedule a meeting.