The Ricardo Forthcoming Conference List provides details of planned Conferences and Exhibitions several years in advance
Stay up-to-date on all the upcoming transport, hydrogen and decarbonisation conferences with one subscription.
Our Conference List spreadsheet is searchable at a category level by market sector and product group. Our topics include:
Motorcycle
Passenger Cars
Commercial Vehicles
Motorsport
Agricultural and Industrial
Power Generation
Clean Energy
Rail
Aviation
Marine
Military and Defence
Ammonia
Hydrogen
Fuels and Lubricants
Engines
Hybrid and Electric Powertrains
Vehicle Systems
Autonomous and ITS
Transmissions
Materials
Our Forthcoming Conference List is a trusted resource for those who need to stay at the forefront of technology and research. OEMs and Tier 1 suppliers are regular subscribers along with educational institutions and governments. 
Get in touch with our expert team for more information about our knowledge products and solutions.
Our expert knowledge team ensure our market specific conference lists include details of each conference, session information and call for papers with submission dates included.
Our monthly conference list includes in-person events and webinars. Talk to our expert team for more information about our Conference List subscription.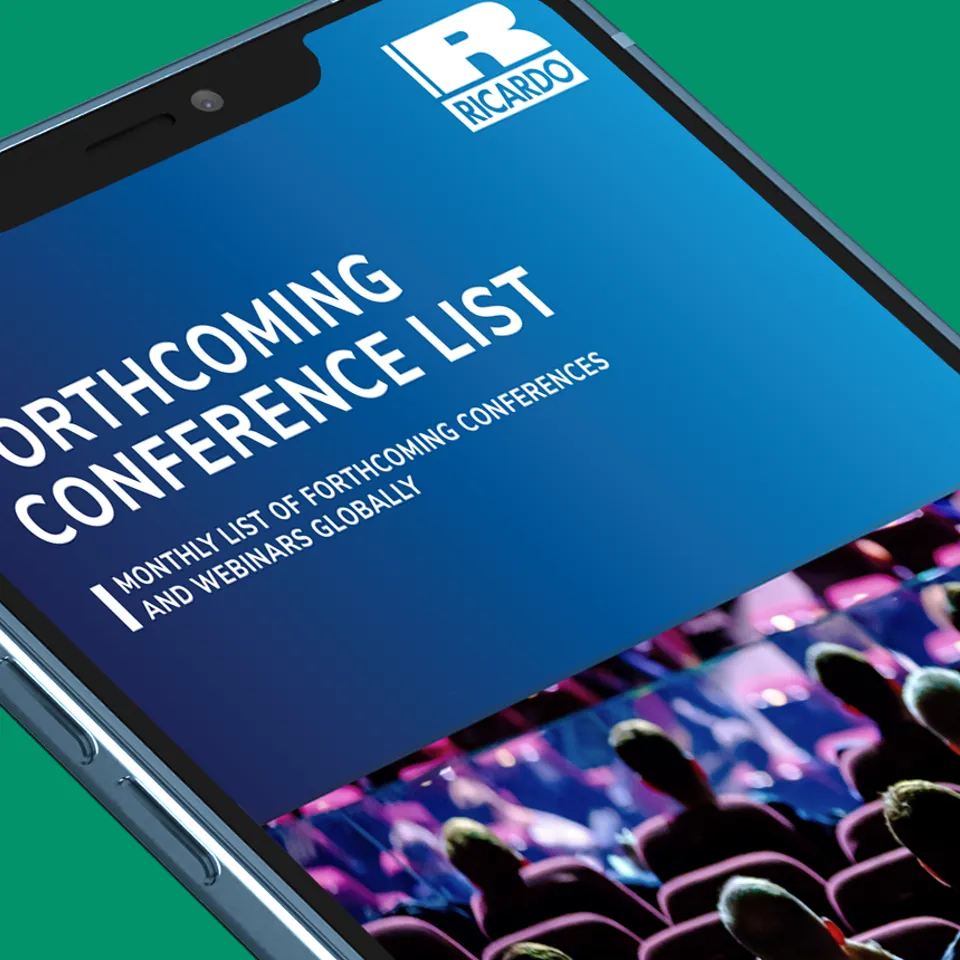 Why Subscribe to our Forthcoming Conference List?
Our expert team manage our trusted sector and application specific conference list.
Regularly updated
Our forthcoming conference list is issued as a monthly PDF and a searchable spreadsheet with descriptions of the conferences and webinars.
Future conferences
Our conference list database includes over 500 future conferences.
Comprehensive
Our expert team add between 50 and 80 new conferences each month including an overview of the session, session headings and calls for papers.
Market sectors
Our conference list includes an impressive range of sectors and product groups such as: Motorcycles, Passenger Cars, Commercial Vehicles, Motorsport, Power Generation, Clean Energy, Rail, Aviation, Marine and more.
Conference List
Markets
This service is offered within the following sectors.
Conference List Resources
Enquire about subscriptions
Click the link below to book a consultation with our Ricardo Knowledge team.