EMLEG - Emissions legislation database
Global emissions standards and regulations can be a challenge for businesses. Ricardo's EMLEG resource makes the complicated simple to deliver informative and insightful support on a range of topics.
EMLEG database
Ricardo's comprehensive, global database contains simplified, up to date summaries of emissions legislation, technical information, and CO2 emissions standards to help individuals and businesses keep up to date with the latest regulatory changes.
Book a demo with one of our experts to discover how EMLEG can simplify emissions legislation for you and your business.
Book a demonstration
EMLEG provides links to the official regulations, covering both draft and final standards. The data is clearly categorised, searchable, and quality checked for accuracy. 
EMLEG provides easy-to-read summaries translated into English and succinct reviews to aid with interpretation. A subscription to EMLEG includes access to the full database, regular email alerts and downloadable material all in one place.
EMLEG is easy to access on multi devices with an intuitive menu and search options. Built to be simple to use, it supports intuitive work and helps to reduce research time. 
EMLEG covers emissions standards for the EU, US, California, India, China, Japan, the UK, Brazil, Canada and Australia, in addition to many other worldwide markets. It provides data on emissions regulations by country and by market sector.
EMLEG includes the latest developments and information on the phase-in of new regulations. These include Bharat Stage VI standards in India, the development of Euro 7 emissions standards, update to post 2025 CO2 emissions targets, US EPA (Environmental Protection Agency) and CARB (California Air Resources Board) emission requirements and more.
EMLEG covers emissions legislation for passenger cars, light commercial vehicles, heavy-duty vehicles, motorcycles, rail, marine, power generation, agricultural, off highway applications and other non-road applications.
Users gain access to specific data, including requirements for certification and in-service testing, emissions limits, evaporative emissions requirements, on-road testing CO2 emissions standards and electrification requirements.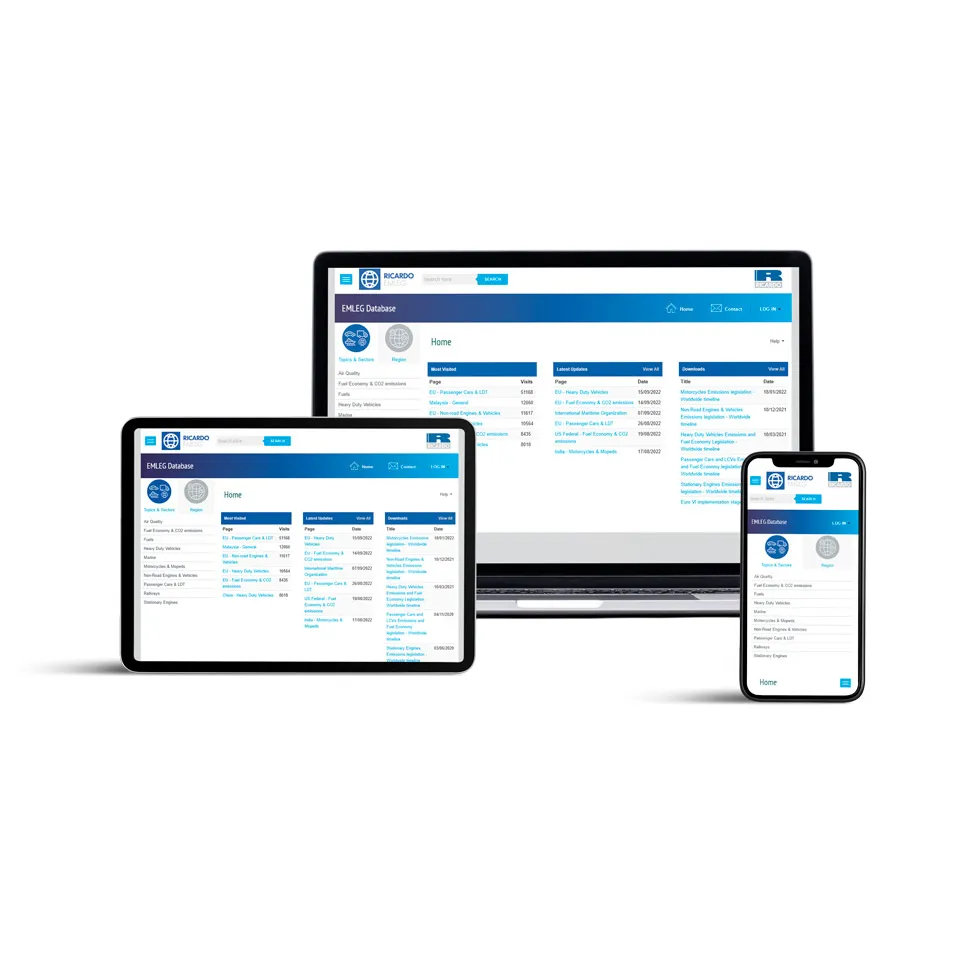 Why Subscribe to Ricardo EMLEG?
EMLEG is an immediate resource for those who need to stay up to date with the current and future emissions standards in a chosen region and monitor changes as they develop.
Worldwide emissions data
EMLEG provides online summaries of emissions regulations in the EU, US, China, India and over 50 other countries for light and heavy duty vehicles, motorcycles, non-road, marine and stationary engines.
Current and proposed regulations
EMLEG covers both draft and finalised regulations for engine emissions, fuel economy and CO2 emissions legislation and electrification requirements, ensuring our subscribers have visibility of proposed changes and amendments.
Trusted resource
Subscribers have confidence in EMLEG as the information is maintained by Ricardo specialists and is continuously updated and quality checked.
Designed for the industry
Researchers and technical leads at OEMs and tier 1 suppliers benefit from a number of features including tables of emissions limits, durability and real driving emissions requirements. Our database shows explanations of test procedures and includes links to original source documents.
EMLEG - Emissions legislation database
Markets
This service is offered within the following sectors.
EMLEG - Emissions legislation database Resources